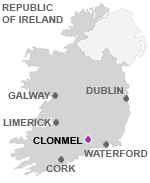 Our facility is located in Clonmel , South County Tipperary.
Situated in an area with a notable cluster of international pharmaceutical
and healthcare companies.
Clonmel has an excellent transport infrastructure and is with easy access
to the country's main Airports, at Cork, Waterford, Shannon and Dublin.
Your Next Step
You may contact Pharma-Assist using the numbers and addresses
below or for any enquiry, simply use the form provided.  
Pharma-Assist Ltd

Unit 16, Carrigeen Business Park
Powerstown, Clonmel
Co. Tipperary, Ireland 

Company Reg No. 330179

Tel.
+353 (0) 52 61 70884
Fax:
+353 (0) 52 61 70884
Mobile:
+353 (0) 87 632 63 60
eMail:
des@pharma-assist.ie
Web:
www.pharma-assist.ie
SatNav:
N: 52°21'49.46"
W: 7°41'21.37"